REAL LIFE GROUPS
When God fashioned us, He deposited in us a need for relationships. And then He shaped us so that without relationships, we don't have a sense of completeness and wholeness. Real Life Groups provide the opportunity to respond to that need! To connect in a safe and healthy environment so that we can realize the full potential that is in us to do life together with others and know, experientially, what it means to be complete and whole!
The Summer Semester of Real Life Groups begins on June 21st through August 15th and the following groups are being offered

: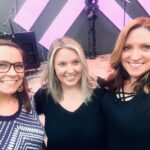 Facilitators: Mandy Campbell, Hope Christmas, Alicia Hanna
Facebook Live session on Mondays, various discussions throughout the week
Study: Grace by Max Lucado
Terry & Melinda Bryant, Facilitators
Real Kidz and/or Zoom virtual attendance
Ric & Jean Edgar, Facilitators
Sermon Notes – Discussion on practical application of the Sunday sermons to every day life
Mike & Connie Rose, Facilitators
If you'd like to register for a group or just get more information, click on the link below, complete and submit the form and the group leader will get in contact with you.