;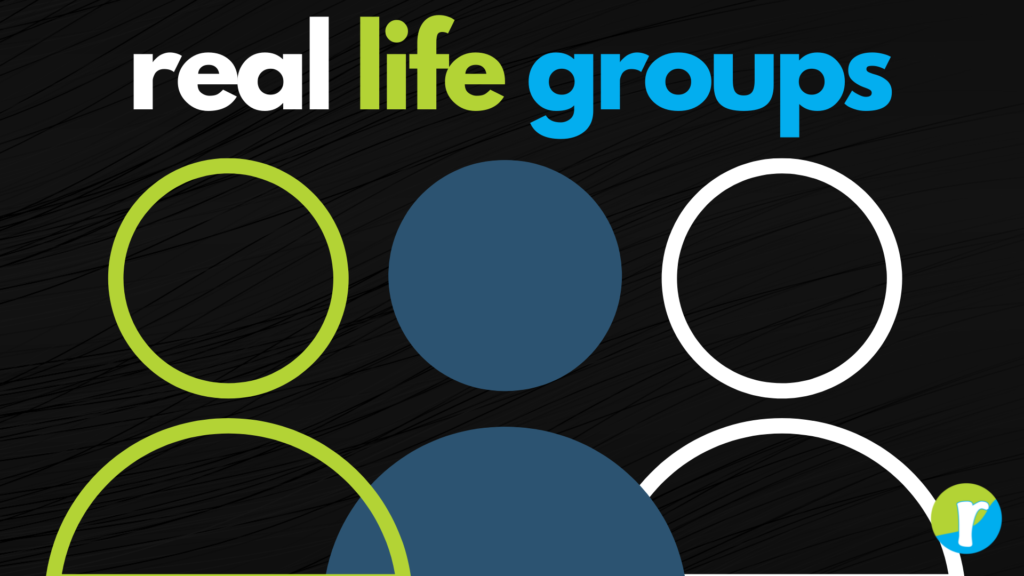 REAL LIFE GROUPS
When God fashioned us, He deposited in us a need for relationships. And then He shaped us so that without relationships, we don't have a sense of completeness and wholeness. Real Life Groups provide the opportunity to respond to that need! To connect in a safe and healthy environment so that we can realize the full potential that is in us to do life together with others and know, experientially, what it means to be complete and whole!
The Spring Semester of Real Life Groups begins February 5th. The groups being offered are listed below with the day, time, location,
facilitator(s) and study subject.
Location: Real Kidz 7:00 pm
Facilitators: David & Hope Christmas
Study: Digging Deeper into God's Word
Each week we will have a theme and ask everyone to bring a food item or drink to share. The first 45 minutes we will eat, fellowship and build relationships. The next 45 minutes we will share scripture, discuss how to apply the Word to daily living and pray for one another.
Women

Location: Real Kidz 6:30 pm
Facilitators: Sarah Olon & Melinda Bryant

Excercise for all shapes, ages and sizes. We will have a low-impact beginners session followed by a time of devotion to God's Word. Then we will finish the night with a more advanced workout session so we can all be Working It Out!
Men

Location: Reality Worship Center 6:30 pm
Facilitator: Jim Fones

Study: How to Build Your Life on God's Word

Herschel Hobb's commentary on How to Build Your Life on God's Word
Location: Real Kidz 12:00 pm
Facilitator: Susan Hilton

Study: How Much More by Lisa Harper

Discovering God's Extravagant Love in Unexpected Places. Maybe your head knows that God is always good, but your heart's not so sure. From beginning to end, the Bible is a love story.
Open to All

Location: Crowfield 7:00 pm
Facilitators: Chuck & Heidi Shinaberry

Study: James: Praying With Power When Life Gets Tough by Jackie Johnson

We will open with the devotional Praying With Power When Life Gets Tough by Jackie Johnson, and then spend time in prayer. God has laid this on our hearts to pray with and for others – for our country, for our prodigals, for a revival, for healing and more.
Couples

Location: Real Kidz 9:30-11:00 am
Facilitators: Jared & Emily Earnhardt

Study: James: Dynamic Duos part 2
***Pre-requisite: Dynamic Duos part 1

In this class, we will dive deeper in our relationships with our spouses. We all bring baggage, positive and negative, into our relationships. Looking at how we were raised or our family heritage answers many questions of why we react or deal with situations the way we do. This semester will be a time of growing in ourselves and our marriages.
If you would like to register for a Real Life Group or more information please click the registration button below, complete and submit the form or email

melinda@realitychurchgc.org

and the group leader will get in contact with you.